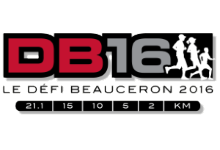 Pour une quatrième année consécutive, la municipalité de Saint-Prosper accueillera le Défi Beauceron. Cette compétition amicale, 2ième étape du Circuit CLB, comporte quatre épreuves de course à pied (21.1, 10, 5, 2 km) et une de marche (5 km).
Les participants des différentes épreuves emprunteront des routes reconnues pour leur beauté naturelle et découvriront les charmes de la région de la Beauce. Tous les participants des cinq épreuves proposées par le Défi Beauceron recevront un chandail et une médaille à l'effigie de l'événement.


See location on the interactive map
Name :
Défi Beauceron
Links :
&nbsp
City :
Saint-Prosper
Region :
Chaudière-Appalaches, QC
Start/Finish :
Aréna de Saint-Prosper, 2585, 30 Rue,
Saint-Prosper, QC
Next Edition :
Saturday Jun 20, 2015
Edition :
5th edition
Since :
2011
Activities :
course:
Organized by :
Jean-François Maheux
Add event to :

See location on the interactive map
Les stats qui suivent indiquent le nombre de finissants aux différentes épreuves.
Une astérisque indique un compte combiné (placer le curseur sur le chiffre pour les détails)
course
marche
Année
TOTAL
2k
5k
10k
21k
11k
5kM
7kM
6kM
2015
2014
1959
419
988
403
149
2013
1430
285
416
361
204
164
2012
738
186
199
253
100
2011
563
163
107
166
127
Series
Part of the following
circuit(s):
Event News
Click on the links to the left to query all events presented in the corresponding region, province or state.