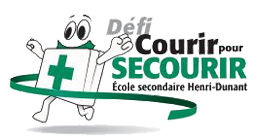 L'École secondaire Henri-Dunant organise la deuxième édition du DÉFI COURIR POUR SECOURIR, une course qui financera le programme de secourisme de l'école. Celle-ci aura lieu le dimanche 12 mai 2013 dans les rues de Blainville. Le départ et l'arrivée se feront au Centre récréo-aquatique de Blainville (voisin de l'école). Il sera possible de courir 1 km, 5 km ou 10 km, ou de marcher sur 5km. Ouvert à tous, cet événement se veut une rencontre amicale qui amènera des coureurs de Blainville et des régions avoisinantes. Grâce au DÉFI COURIR POUR SECOURIR, nous espérons former de futurs citoyens capables d'intervenir en cas d'urgence.
Pour s'inscrire: https://www.onlineregistrations.ca/courirsecourir/index_fr.php

See location on the interactive map
Name :
Défi Courir pour Secourir
Links :
&nbsp&nbsp
City :
Blainville
Region :
Laurentides, QC
Start/Finish :
École Secondaire Henri-Dunant, 200 rue
Marie-Chapleau, Blainville
Next Edition :
Date not available for 2014
Edition :
3th edition
Since :
2012
Activities :
course:
To raise funds for :
Programme de secourisme de l'École secondaire
Henri-Dunant
Les stats qui suivent indiquent le nombre de finissants aux différentes épreuves.
Une astérisque indique un compte combiné (placer le curseur sur le chiffre pour les détails)
course
marche
Année
TOTAL
1k
5k
10k
5kM
2014
2013
380
116
161
69
34
2012
295
124
118
53
Event News
No news entry found for this event.
Click on the links to the left to query all events presented in the corresponding region, province or state.