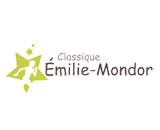 Cette course est organisée afin de perpétuer la mémoire de la jeune et talentueuse mascouchoise Émilie Mondor, coureuse olympique décédée en septembre 2006 dans un accident de voiture. La course se tient en octobre, dans le cadre enchanteur du Parc du Grand-Coteau de Mascouche.
À moins de 40 minutes de Montréal, La Classique Émilie-Mondor offre aux coureurs des parcours aménagés de 1, 3, 5 et 10 km dans un environnement naturel de sous-bois principalement sur sentiers de terre battue. Depuis 2012, un parcours de 7 km de type 'x-trail' est présenté. Sur ce parcours, pieds possiblement mouillés et boueux à la fin mais sourire de satisfaction garanti… Nouveauté en 2013: un défi corporatif est lançé aux entreprises participantes.
Faites vite pour vous inscrire, les places sont limitées!


See location on the interactive map

See location on the interactive map
Registration is now closed for this event.
Les stats qui suivent indiquent le nombre de finissants aux différentes épreuves.
Une astérisque indique un compte combiné (placer le curseur sur le chiffre pour les détails)
course
trail
Année
TOTAL
1k
2.4k
5k
10k
3k
7k
2014
2013
1356
241
281
327
317
190
2012
1150
206
246
255
259
184
2011
684
102
240
204
138
2010
580
203*
227*
150*
Click on the links to the left to query all events presented in the corresponding region, province or state.