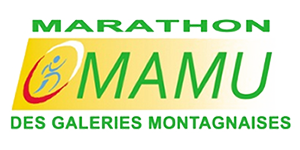 L'un des objectifs du Marathon Mamu est de sensibiliser la population à la pratique d'activité physique. Tant les jeunes que les moins jeunes sont invités à se délier les jambes pour ce rendez-vous, coureurs comme marcheurs, débutants comme experts.
Différentes distances sont proposées. Le coup d'envoi sera lancé à 8h00, pour le marathon ITUM(42 km) et le demi-marathon ALOUETTE(21 km). A 8h10, les coureurs et marcheurs inscrits aux distances de 10km CLIFFS et 5km OPTIK360 prendront le départ et les coureurs du 1k UAPAN prendront le départ à 8h20.
Evénement au profits de la Maison des soins palliatifs l'Élyme des sables de Sept-Îles.

See location on the interactive map
Les stats qui suivent indiquent le nombre de finissants aux différentes épreuves.
Une astérisque indique un compte combiné (placer le curseur sur le chiffre pour les détails)
course
marche
Année
TOTAL
1k
2.5k
5k
10k
21k
42k
5kM
10kM
2015
2014
679
102
63
201
219
76
18
2013
574
148
184
140
82
20
2012
344
84
60
87
56
19
25
13
2011
179
38
43
35
22
28
13
Series
Part of the following
circuit(s):
Click on the links to the left to query all events presented in the corresponding region, province or state.